Cauliflower Seeds - Yellow Romanesco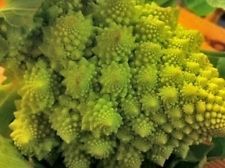 Cauliflower Seeds - Yellow Romanesco
200+ Seeds
This is my first year growing this heirloom variety from Italy, and I like the results. The heads are pinecone-shaped, and contain numerous bright green rosettes. The flavor is nuttier than your typical white cauliflower, and the shape is incredible! Give it a try, you will not be disappointed.
Unusual shape and color make it an excellent market variety.
80 Days, Open-Pollinated
All seeds were harvested in 2014 for the 2015 growing season. Germination tested October 2014 at 80%.