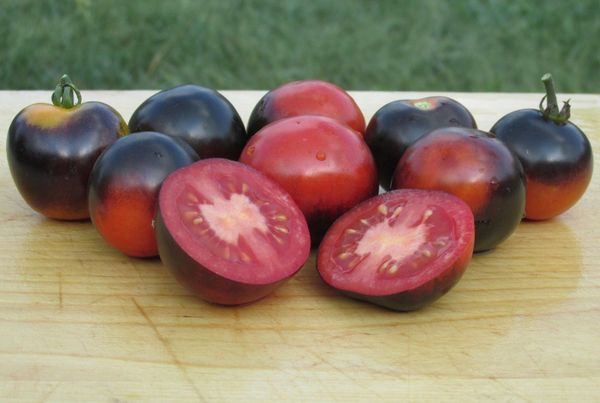 Indigo Rose Tomato Seeds
Organic - Purple/Blue Cherry Variety - 25+ Seeds
I grew this variety for the first time last year. All I can say is wow!
This bizarre-looking variety has a place in my garden from this point forward. The plant has a purple/green hue, and the fruit are dark purple in color averaging about an inch in diameter. Slicing a ripe fruit yields a light pink interior.
Most fruit tend to be purple on the top-half, while the bottom-half changes from green to pink as they ripen. The flavor changes from tart to sweet as they ripen.
Their appearance is nothing short of stunning - my wife wondered if they were real tomatoes when I brought in the first harvest of the season. She immediately took pictures and sent them to her friends (just look at the picture!). And the kids simply can't keep their hands off them.
Add these to a salad and you'll definitely start a conversation!
These seeds were organically-grown. Only rainwater was used for irrigation as we had a damp summer here in Ohio.
65 days, Open-Pollinated, Indeterminate