Siberian Pink Honey - Rozovyi Myod Tomato Seeds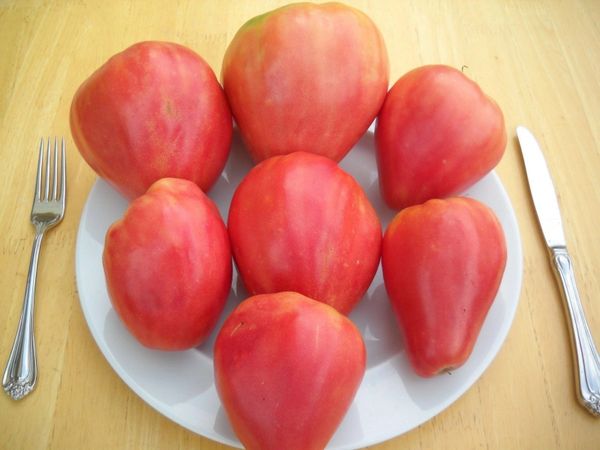 Siberian Pink Honey - Rozovyi Myod Tomato Seeds
Organically-Grown - 20+ Seeds    
In 2010 I received 10 Siberian Pink Honey seeds ("Rozovyi Myod" in Russian) from a family friend in Omsk, Russia (Siberia). He told me that this is the best Siberian heirloom variety available, and that the fruit grow to a very large size. He also said that the seed is very difficult to find. I now understand why.
I started the 10 seeds in late March 2010, along with over 900 other tomato plants (27 varieties), and quickly discovered that the Pink Honey were the first to germinate, and the fastest growers. Within a few weeks they were 3" taller than any other variety.
I planted my first 10 plants on May 25th, 2010 and had excellent fruit-set within 3 weeks. They seemed to explode out of the ground in the early cool weather. I was harvesting tomatoes in early July, which is unheard of in this part of Ohio. We rarely harvest tomatoes before August 1st.
Now on to the fruit. I HAVE NEVER GROWN TOMATO PLANTS THAT GROW SUCH HUGE FRUIT. They are oxheart-shaped, many over 2 pounds, with very few seeds. In fact, I would say they are the meatiest I have ever grown, with a delicious-fruity taste. They are not acidic or sour.
Since then I harvested 20 pounds per plant in 2010, 21 lbs. in 2011, 18 lbs. in 2012, 23 in 2013, 23 in 2014,etc. etc
Unfortunately for me, as a seed grower, 120 pounds of fruit only yields about 1 oz. of seed. I could have sold the fruit for $360 at the market value here in central Ohio! I now understand why the seed is so rare.
I think you will enjoy it.