2020 Seeds are Now Available!!
March 26th Update: We are almost caught up on orders. Orders plaved today should go out in 2 business days, although I will be filling orders over the weekend.
March 25 Update: We are currently processing orders placed on the 21st. We should be caught up within two days, although we have run out of a few things. I am doing my best to keep the webstore inventory updated properly.
March 23rd Update: We are taking orders again. We worked all weekend and are beginning to catch up on orders. I am currently processing orders placed on the 18th, and should be finished with them today (and probably some orders placed on the 19th). I closed down my Amazon and Ebay stores so that we can focus exclusively on webstore orders. Please be patient! BTW, I have started tomato seeds in late April and had prefectly normal production. You still have a few weeks to start peppers too. -Mike 

March 20th Update: Due to the coronavirus we are dealing with an extraordinary number of orders. Orders placed after March 18 will take 5-7 business days to ship. We are sorry for the delay, but we are working as hard as we can to get orders processed. Please do not call or email and ask when your order will arrive, it just slows the process. I am working 14 hours a day to process orders and I will be working over the weeked. Thank you for your patience.

2020 seeds are here for all varieties!! Ohio Heirloom Seeds is proud to sell only the finest quality vegetable and herb seeds available. We pledge to you that none of our seeds have been genetically altered in any manner and are non-GMO varieties. Most of our seeds are organically-grown. All varieties are open-pollinated, meaning that you can harvest seeds from your fruit and grow the exact same variety, year after year.
Our seed packages are priced starting at $1.39.
Shipping Charges:
(same price regardless of order size)
USA $2.29
Canada $8.00
EU $12.00



We accept Visa, MasterCard, American Express, Discover and PayPal. 
Our seeds are hand-selected, packaged in traditional paper envelopes, and mailed to you in a bubble-mailer envelope for extra protection. The typical package contains at least 10% more seeds than specified.
All seeds were harvested in 2019 for the 2020 season.
Orders usually ship within 2 business days.
We appreciate your business and hope you enjoy our products!
- Mike Dehlendorf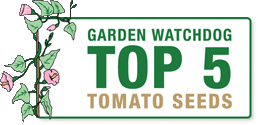 Garden Watchdog Top 5 Tomato Seeds
     all photographs are copyrighted