2024 Seeds are Now Available!!
2024 seeds are here for most varieties!! Ohio Heirloom Seeds is proud to sell only the finest quality vegetable and herb seeds available. We pledge to you that none of our seeds have been genetically altered in any manner and are non-GMO varieties. Most of our seeds are organically-grown. All varieties are open-pollinated, meaning that you can harvest seeds from your fruit and grow the exact same variety, year after year.
Orders are being shipped out in 1-2 business days

Shipping Charges:
(same price regardless of order size)
USA $3.99
Canada $13.00
We can no longer ship to Europe due to a change in Euro Area laws regarding seed imports.



We accept Visa, MasterCard, American Express, Discover and PayPal. 
Our seeds are hand-selected, packaged in traditional paper envelopes, and mailed to you in a bubble-mailer envelope for extra protection. The typical package contains at least 10% more seeds than specified.
Orders usually ship within 2 business days.
We appreciate your business and hope you enjoy our products!
- Mike Dehlendorf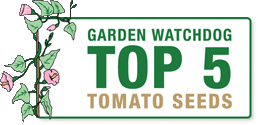 Garden Watchdog Top 5 Tomato Seeds
     all photographs are copyrighted